We have discussed the impact of aging population quite often now. The elderly depends heavily on savings for their expenditure especially after retirement. However, having already attained important assets such as housing and car, older people tend to spend less money than younger population does. In most developed countries, the proportion of older people has been expanding. This trend will seriously undermine these nations' aggregate demand. South Korea is one of the countries currently experiencing this impact. The graph below shows the rapidly aging South Korean population.
The Bank of Korea (BOK) has cut the interest rate three times since August 2014.Right now, the rate stands at an unprecedented 1.75 percent. However, there are few signs of strength in consumption. On the contrary, the household savings rate rose to the highest level in ten years in 2014.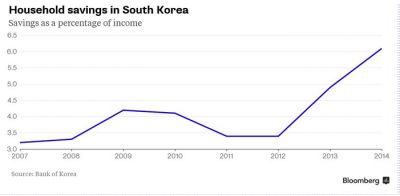 Economists believe that the record-low rates have not been effective in encouraging consumption because they have failed to encourage the elderly to borrow and spend or invest. The BOK governor Lee Ju Yeol acknowledges that Korea's aging population has altered how monetary policy affects the economy. For South Korea, the biggest hurdle to economic recovery may be weak domestic demand with growing elderly population who are reluctant to spend their savings.
Source: http://www.bloomberg.com/news/articles/2015-04-06/retirees-who-cherish-savings-have-south-korea-in-a-bind