There were significant conclusions at this past weekend's G20 in Sydney and now the wait to see how these conclusions play out begins. Among these conclusions were several commitments from the 20 largest economies in the world including to keep an ongoing exchange of information between central banks and to improve regulations on the financial sector to avoid major global downturns in the future. On top of these commitments the 20 finance ministers agreed to a program of growth that would increase the world economy by $2 trillion more than is forecast by 2019, mainly be focussing on weakness in global demand. Underlying the agreements was a belief that their is much potential for growth in developing markets and accommodating these economies would benefit developed nations in the long run.
Much of the discussion at the meeting was based around a report published collectively by the IMF, OECD, and World Bank. The report recommended a number of policies to improve efficiency in labor markets and welfare systems. The report also encourages removing barriers to international trade and regulatory barriers to entry in markets to boost competition of particular relevance to China given the rapid growth in the last ten years which foreign investors have been eager to get a part of. However it is unclear how much China was an active participant at the meeting and how much China was there for show and to build political ties with the following statement coming from the governor of the PBOC. While political leaders often make a global show of cooperating we will have to wait and see to what extent countries individually honor their commitments for growth and stability.
China will work on balancing the need for economic growth, reforms and stability. Growth of 7-8 percent is not only suitable for China, it is also good for advancing world economic growth and sustaining the global economic environment.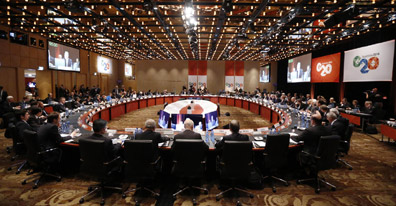 Read more here:
http://www.centralbanking.com/central-banking/news/2330610/g-20-pledge-to-communicate-route-to-monetary-policy-normalisation
http://zeenews.india.com/business/news/international/g20-sydney-2014-key-points_94964.html
http://www.lowyinterpreter.org/post/2014/02/26/Chinas-selective-reading-of-G20-Finance-Ministers-recommendations.aspx