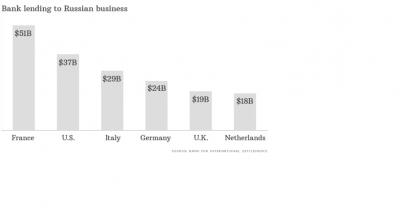 As things are getting worse in Crimea, the western power has been trying to take action against Russia. The EU leaders (and President Obama) have been considering how much more pressure they should put on Putin over Russia's annexation of Crimea. The U.S. and the EU claim that Russia has violated Ukrainian sovereignty and have put 28 Russian officials on their list of travel bans and asset freezes. The point, however, is that it seems like Russia does not care at all, so the EU leaders are now trying to put more pressure with serious economic sanctions.
However, it may be difficult for them to do so. According to CNN, Russian oligarchs, banks, and corporations have been borrowing heavily from the west, indicating the risks for both sides in the Ukraine crisis. Also, Europe and Russia have close trade and investment ties, worth more than $ 500 billion a year. Economists predict that the Russian economy will be severely affected by the Ukraine crisis and may not grow at all in 2014. Economists also warn that "European banks stand to lose much more than their U.S. counterparts if the crisis were to deepen." This means that no matter how delicate their sanctions will be, these actions will hurt both of the EU and Russia.
If you look at the chart, you see that the European lending to Russia at the end of September 2013 was $ 184 billion. French banks have lent the most ($51 billion), followed by Italy ($29 billion), Germany ($24 billion), the U.K. ($19 billion), and the Netherlands ($18 billion). If the EU does put more pressure against Russia, then it will hurt both of the economies due to their close economic relationships.