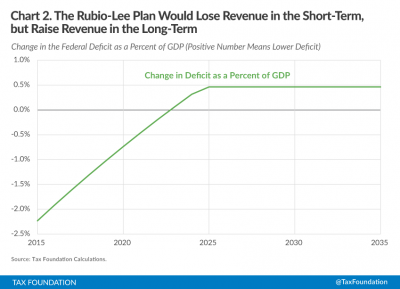 When it comes to our economy there are clearly different ways that economists look at it. Think tanks put out reports regularly that are often bashed by economists with differing viewpoints. Currently a tax reform that is under debate is the Rubio-Lee plan. One critic so gently put it, the "Puppies and Rainbows Tax Plan". The goal of this tax cut plan is to generate revenue through three vantage points. The first is big tax credits for middle-income families with children. The second is corporate tax cuts. The third calls for the complete elimination of the capital gains tax. The Tax Foundation put out a report advocating for the Rubio-Lee Tax Reform Plan. Their claim is that the the plan would increase GDP by 15% and increase wages by 13% within the next ten years.
The main criticism of this report is that, while the general economics may be correct in theory, the model is just not applicable to such a complex economy that is the United States. Looking at it in terms of macroeconomic models this tax cut, some claim, works in theory in a "very small, very open" economy. Two things that the United States is not. Two different economists suggest, as more a jab than an actual suggestion, maybe trying this plan in the Netherlands Antilles or Bermuda.
This controversy as well as controversies over basically any other tax reform shines a light on the idea that studies can be diverted in order to get the result intended. In the case of the Rubio-Lee reform, a costly plan, the idea is that the tax reform will, eventually, pay for itself. However, the issue with this is the dynamic tax scoring rule that the House starting using in January that "gives legislation credit for its likely macroeconomic effects, including any rise in tax receipts due to economic growth". This may give too much power to Think Tanks with skewed economic reasoning.