Different arguments regarding the future of the euro currently exist. Goldman Sachs' analysts believe that the euro will be at $0.80 by the end of 2017, losing a quarter of its value from its current value. At the other end of the spectrum, HSBC's economist believe that the euro will appreciate to around 15% to $1.20 over the same period.
The Goldman Sachs view is based on expectations that U.S monetary policy will begin to normalize, in that the Fed will raise interest rates from current near-zero levels. While this occurs, the ECB will still be aggressively performing open market operations, thus keeping interest rates low, resulting in investors shifting cash out of Eurozone assets. Additionally, the Goldman analysts believe the dollar is currently "underpositioned", because financial markets move faster than the real economy, causing currencies to fall below their fair value until assets priced in that currency show compelling value.
HSBC's analysts argue that as a result of its recent surge, the dollar is now one of the world's most overvalued currencies, second to the Swiss franc. The rising dollar has put downward pressure on commodity prices, pushing U.S. inflation down as well. As a result, the Fed policy will likely remain accommodative for longer than the consensus predicts. Thus, what is bearish for the dollar will be bullish for the euro.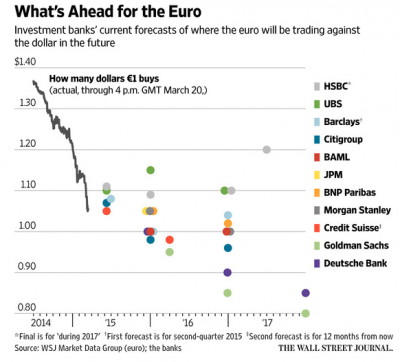 Who do you all think has the most sound argument?
http://blogs.wsj.com/moneybeat/2015/03/20/the-euros-going-down-if-it-doesnt-go-up/?mod=WSJBlog&mod=MarketsMain