The U.S stock market experienced a large-scale decline on Tuesday, with the Dow falling 172 points (1%) to 17823. Likewise, the S&P 500 fell 21 points (1%) to 2059, and the Nasdaq fell 51 points (1%) to 4891. These declines have wiped out all gains for the year.
Analysts claim that there was no U.S. specific trading news that triggered the decline, but instead it was action in European markets. The dollar recently rose to a near 12-year high versus the euro (to $1.0787). Likewise, bond yields in the Eurozone hit lows, as the ECB began it's quantitative easing program in order to drive up inflation.
Similarly, after a strong February jobs report, there has been talk that the U.S Federal Reserve is expected to begin tightening their policies this year, potentially raising interest rates as early as June. However, the Fed considers both employment and inflation when making monetary policy decisions, and because inflation still remains below the 2% target, this is highly debatable.
Additionally, moving Apple into the Dow, and AT&T out, is expected to cause the Dow to become more volatile, as the Dow is a price-weighted index, and Apple has a higher share price than AT&T.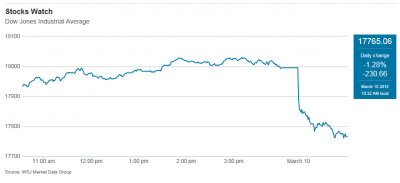 http://www.dailyfinance.com/2015/03/06/market-wrap-stocks-decline-fears-rising-interest-rates/
http://www.bloomberg.com/news/articles/2015-03-10/u-s-index-futures-slip-as-fed-s-fisher-says-rates-should-rise
http://www.wsj.com/articles/u-s-stock-futures-drop-sharply-1425989837?mod=WSJ_hp_LEFTTopStories